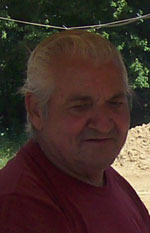 Shannon Ray King was born and raised in Ripley, West Virginia on February 4, 1937. He met the love of his life, Jo Ann Sharp when he was 14 and they were married on October 29,1955. Shannon moved to Cincinnati, Ohio in 1955 to work at Diamond International. He later brought his wife and first born son to Cincinnati to live. Together Shannon and Jo Ann raised their four children; Shannon Jr., Robin, Steve, and Cindy.
Shannon dreamed of owning property with a lake that all of his children could live on. When he talked about it he called it his dynasty. He worked at Diamond International and searched for his dream property. In 1973 the family found a campground in Blanchester on over 50 acres with a 5 acre lake. They camped there every summer until the property was sold to a man by the name of Rex Allen.
Rex turned the campground into a motocross track and called it Dirt Country. Shannon and Rex became good friends over the next few years. Shannon started managing the track and became even more in love with it. In 1983 Rex decided to leave the business and asked Shannon if he would like to take over. This is when his dream became a reality. He was excited about adding new events to the racing calendar. He added Mud Bogs and Demolition Derbies. One year he even held a National Tractor Pull.
The family still only lived at the facility in the summer months until 1993 when they moved there permanently. He continued to run the racing facility as a hobby and work at Diamond International until they closed their doors. He then became a self-employed truck driver for Red Bank Transport. He was finally able to retire from trucking in 2001 and focus on Dirt Country full time. This was another major milestone in his life. He dreamed that his children and grandchildren would love Dirt Country as much as he did and continue to carry on the business once he was gone. In his last days he said he was so proud of his kids for working as hard as they did to keep the business going for him. In turn, they promised him that his dream would live on with them.
In July 1976 his first grandchild was born Sonya Jo, a year later his second grandchild Crystal Lynn followed by seven others in the years to come. (Me) Sabrina Lee 1979, Joshua Wayne 1985, Brittany Lynn 1990, Dillan Ray 1991, Cody Ray 1992, Rebecca Marie 1999 and most recent Hailee Lynn 2007, he was also blessed by many great grandchildren that he loved very much.
Shannon was a grandpa to so many kids both big and small. After a long winter, opening day of motocross practice would put a big smile on his face. He couldn't wait to talk to his boys and they couldn't wait to talk to him. Even during his time of illness, a visit from his racing friends would lift his spirits enough to keep him holding on.
Shannon accomplished his most important heart felt dream in life and that was Dirt Country. His dream will live on not only through his family but also through the many lives he has touched over the years. Shannon passed on September 19, 2007 surrounded by family in his home at Dirt Country. He will be deeply missed by all who knew and loved him.